Any fan of Channel 9's 'The Block' would be familiar with the term 'Acoustic Mount Clips' after the past week's proceedings. For those not caught up to speed, teammates Kerrie and Spence were faced with the task of replacing a whole suspended ceiling system due to the installation of incorrect Acoustic Ceiling Mounts; in particular, Clips that were not specified by 'The Block's' own Foreman, Dan Reilly.
A recent article published by Domain highlights the dire consequences of not sticking to plan; in Kerrie and Spence's case, the re-installation of the ceiling system had them temporarily 'walk' from the competition.
Situations like this occur all the time in the Construction Industry. Repercussions are just as debilitating as the lost time and labour costs Kerrie and Spence experienced this week.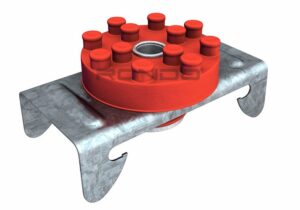 Ensure you're using the correct Acoustic Mount Clips! Nobody wants to install a suspended ceiling, tear it down, and then reinstall that suspended ceiling again, just ask Kerrie and Spence how that feels.
Any questions about Acoustic Mount Clips, get in touch with our customer service team who can supply the information and technical specifications that you require – (02) 8316 5000 or send us a message